our choice
OXO Good Grips Compact Toilet Brush and Canister
The OXO has the best bristles of any brush we tested, with an attractive base that conceals the brush while allowing the head to dry. And its brush head is replaceable, reducing waste.
Purchase options
*At the time of publication, the price was $16.
The OXO Good Grips Compact Toilet Brush & Bowl conceals the brush head almost like magic – the bowl opens and closes automatically when you remove or insert the brush. And there's enough air circulation to prevent mold buildup. In addition to looking great, this brush has the best bristles out of any we've tested. The OXO combines stiff edge-scrubbing bristles with soft, bowl-brushing bristles that are capable of picking up a lot of dirt without shaking off a lot of water. The brush heads are also replaceable, creating less waste. We also appreciate that the OXO comes in beige, white, gray, and black, so you can better blend it into your decor.
runner-up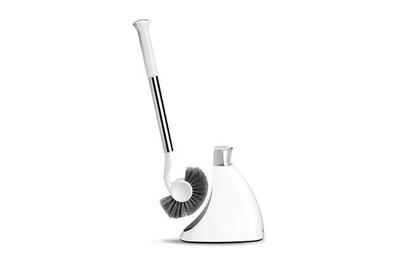 Simplehuman toilet brush
The Simplehuman brush is sleeker looking than any we've tested, and the caddy allows the replaceable brush head to air dry quickly. But it takes a while to get used to the unique design of the brush.
Purchase options
*At the time of publication, the price was $25.
If the OXO isn't available, or if you're looking for a more polished look, we like the Simplehuman Toilet Brush, available in black or white. The Simplehuman was clearly the most stylish toilet brush we've seen, but it also hit all the right marks for performance. The brush's unique circular bristle pattern makes it easy to get to the bottom of the toilet rim and the bottom of the bowl, but this can take a bit of getting used to. The Simplehuman is a bit taller than others we tested, but its caddy is very narrow, making it a good option if you're short on floor space. The caddy also has an open back that allows the brush to dry out between uses. The downside of the Simplehuman brush is that it's expensive compared to others we've tested. Just like with the OXOs, Simplehuman's brush heads are replaceable.