Backblaze, a cloud storage provider, has published the statistics (opens in a new tab) for the 2906 SSDs used as boot drives in their storage servers. To be clear, these are not only boot drives, as they also read and write log files and temporary files, the former of which can sometimes cause quite a bit of wear and tear. Backblaze has been using SSDs for boot drives since 2018, and like its hard drive stats, it's one of the few ways to get a great deal of information about how large numbers of drives are holding up over time, in mostly for consumption.
Before we get to the statistics, there are some qualifications. First, most of the SSDs Backblaze uses are not the latest M.2 NVMe models. They're also typically pretty small in capacity, with most drives only offering 250GB of storage, plus about a third are 500GB, and only three are larger 2TB drives. But using much of the same hardware model makes things simple when it comes to managing hardware. Still, if you're expecting to see stats for popular drives that could make our list of the best SSDs, you're going to be disappointed.
Here are the stats from last year.
While seven of the drive models used are faultless, only one of them has a significant number of drives installed, Dell DELLBOSS VD (Boot Optimized Storage Solution). The other six have less than 40 SSDs in use, with four that are only installed in two or three servers. It is most useful to pay attention to units that have a high amount of use, specifically those with more than 100,000 days of use.
These include the Crucial MX500 250GB, Seagate BarraCuda SSD and SSD 120, and Dell BOSS. It is interesting to note that the average age of the Crucial MX500 (opens in a new tab) drives is just seven months, despite the fact that the MX500 first became available in early 2018. Backblaze is clearly not an early adopter of the latest SSDs. Still, in general, bootable SSDs have an annualized failure rate of less than 1%.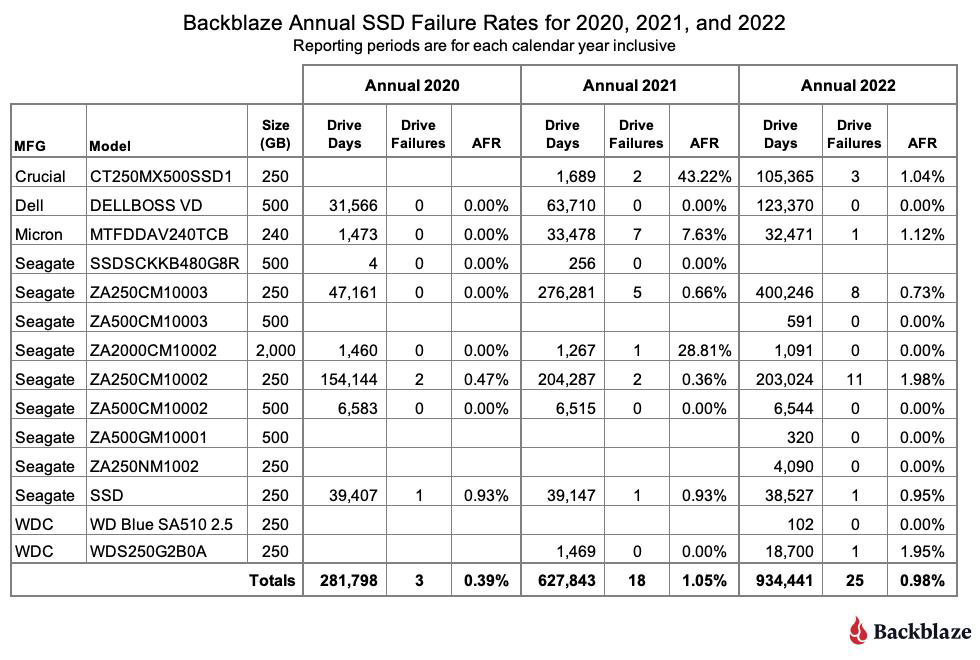 Stepping back to an even broader view of the past three years, that 1% annualized failure rate holds, with only 46 total drive failures during that time span. Backblaze also notes that after two relatively quick failures in 2021, the MX500 performed much better in 2022. Seagate's older ZA250CM10002 also dropped to a 2% failure rate last year, while the newer ZA250CM10003 had more days. in service and fewer failures, so it will be interesting to see if those trends continue.
Another piece of information Backblaze analyzed is the SSD temperature, as reported by SMART (the Dell BOSS doesn't seem to support this). The graph is not zero based, so at first glance it may look like there is a decent amount of fluctuation, but in reality the units ranged from an average of 34.4 C down to 35.4 C, just a 1 C interval. .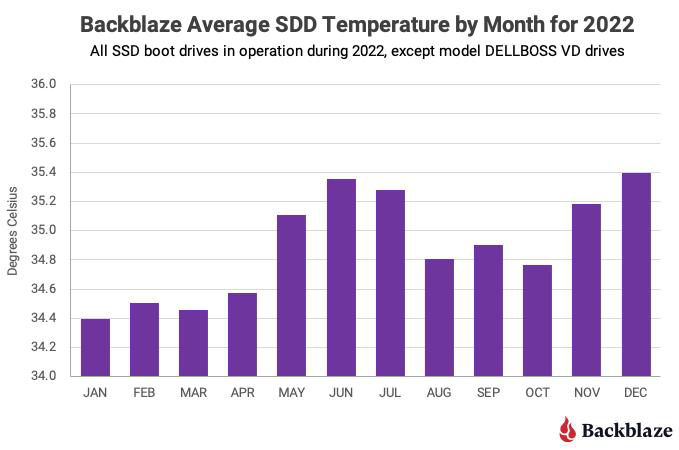 Of course, that's just the average, and there are some outliers. There were four observations of a 20C unit and one instance of a 61C unit, with most falling in the 25 to 42 degree Celsius range. It would be nice if the bell curve seen above also correlated with failed drives in some way, but with only 25 total failures for the year, that wasn't going to be it: Backblaze called the resulting plot "nonsense."
Ultimately, the number of SSDs in use by Backblaze pales in comparison to the number of HDDs – check out the latest Backblaze HDD report (opens in a new tab), for example, where more than 290,000 units were used last year. This is because customer data is not stored on SSDs, so it is only for the operating system, temporary files, and logs. Still, the data from nearly 3,000 drives is far more than any of us (other than IT folks) would likely have access to in the course of a year. By the way, the hard drives had an AFR of 1.37%.
Does this prove that SSDs are more reliable than HDDs? Not really, and having a good backup strategy is still critical. Hopefully in the next few years we'll see more recent M.2 SSDs in the Backblaze data; we'd love to see maybe 100 or more each of PCIe 3.0 and PCIe 4.0 drives, for example, but that's of course. it assumes that storage servers even support those interfaces. Over time, they almost certainly will.